Stand package Superior Line – The Eyecatcher
The premium stand construction with extra space for advertising to impress your customers.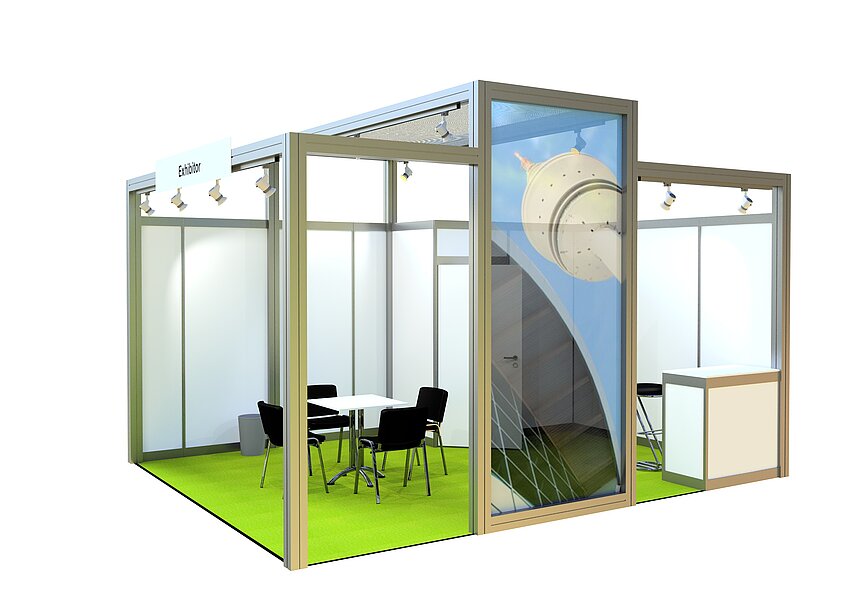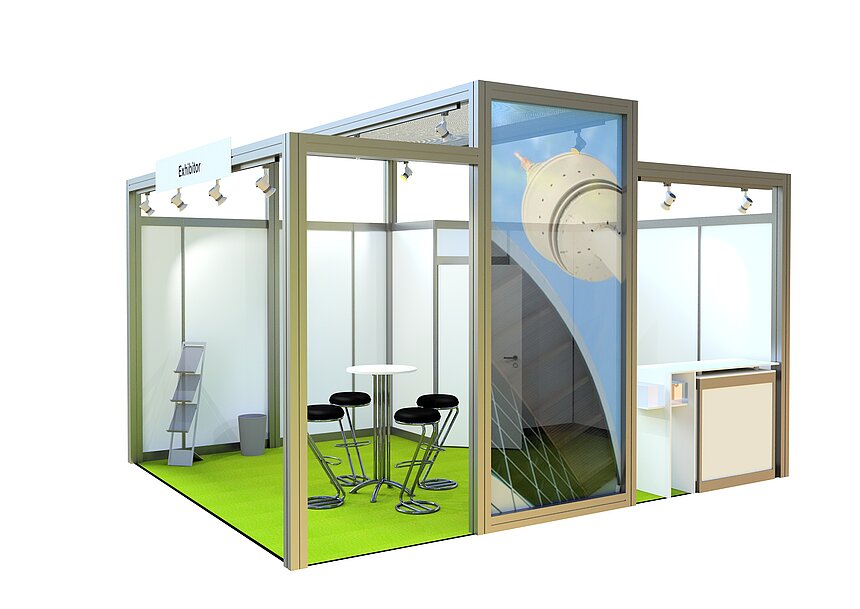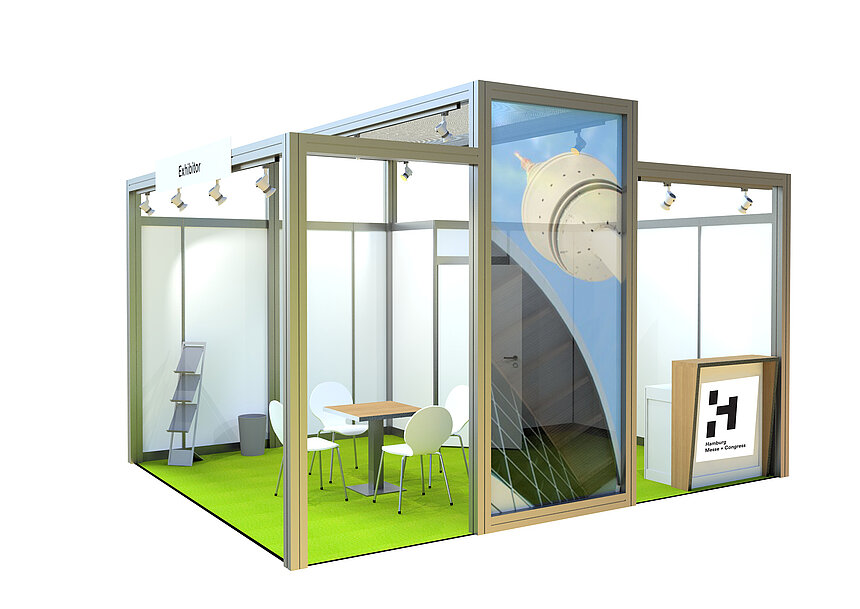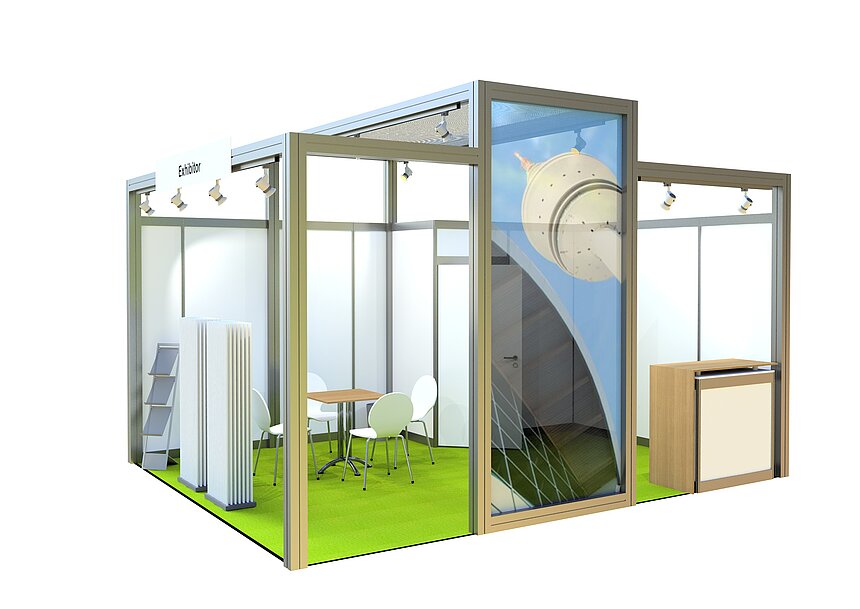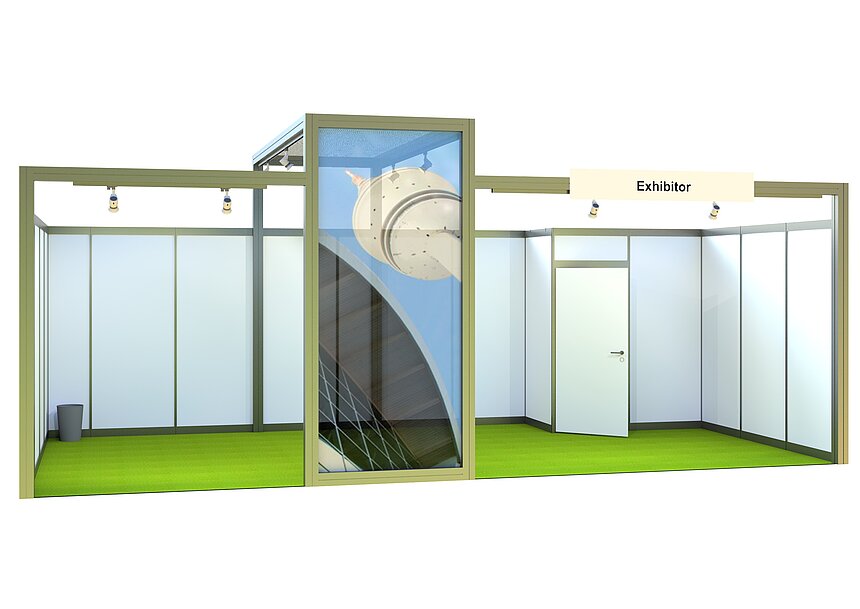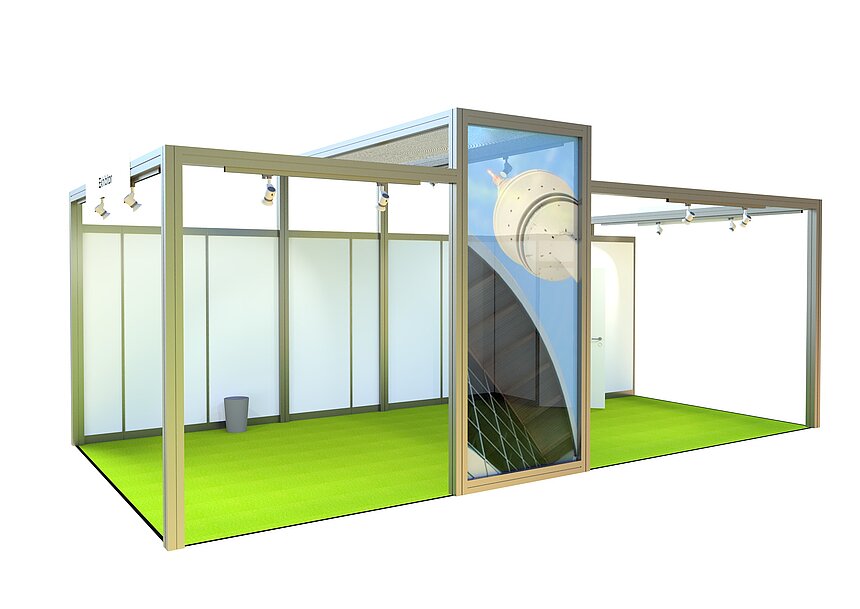 min stand size: 36 sq.m.
Equipment
Velours carpet, grey, blue or green (further colours on request)
KANYA system walls, height = 2.5 m, white
Corner cupboard, 2 m², with lockable door and wardrobe board
Truss beams SYMA-MOLTO, height = 2.85 m
Graphics tower, height = 3.34 m x width = 1.60 m, with textile banner incl. digital print (after submission of printable data)
Ceiling with wide-meshed fabric that does not affect the sprinkler system, white
Fascia board with 15 vinyl letters included, additional letters will be charged
1 spotlight per full 3 m² stand space
1 Waste Paper Basket
Inclusive
Electrical connection 3kW (incl. consumption, 1 socket, grounding)
Daily cleaning (rug, tables, info counter)
Daily rubbish pick-up (providing you with one 60l bin liner per day, including waste disposal)

* Prices also include the rented truss construction, assembly, dismantling and transport. German VAT not included.
** Prices and booth types valid for events until December 31, 2023. Prices and booth types for events from January 1, 2024, available upon request at ausstellerservice(at)hamburg-messe(dot)de. Price adjustments reserved.
Basic Version – 209,00 € / sq.m*/** (minimum 36 sq.m)
Basic Version – 209,00 € / sq.m*/**
plus Furniture Package 1 – 229,80 €
Basic Version – 209,00 € / sq.m*/**
plus Furniture Package 2 – 362 €
Basic Version – 209,00 € / sq.m*/**
plus Furniture Package 3 – 480 €
Basic Version – 209,00 € / sq.m*/**
plus Furniture Package 4 – 586,60 €
Basic Version – 209,00 € / sq.m*/**
Basic Version – 209,00 € / sq.m*/**
OSC-Login
---