In Germany's second largest city, Hamburg Messe und Congress organises, serves and enables a wide range of major national and international events year after year: Renowned industry fairs, world-leading congresses, political party conferences, annual general meetings, cultural and sports events all find the right conditions at this venue.
Situated between the University and the famous Reeperbahn district, in the midst of a vibrant inner-city with generously spaced parks, the eleven halls of the Hamburg trade fair site offer more than 87,000 square metres of exhibition space. Just a few metres away, the CCH – Congress Center Hamburg provides up to 50 halls and rooms.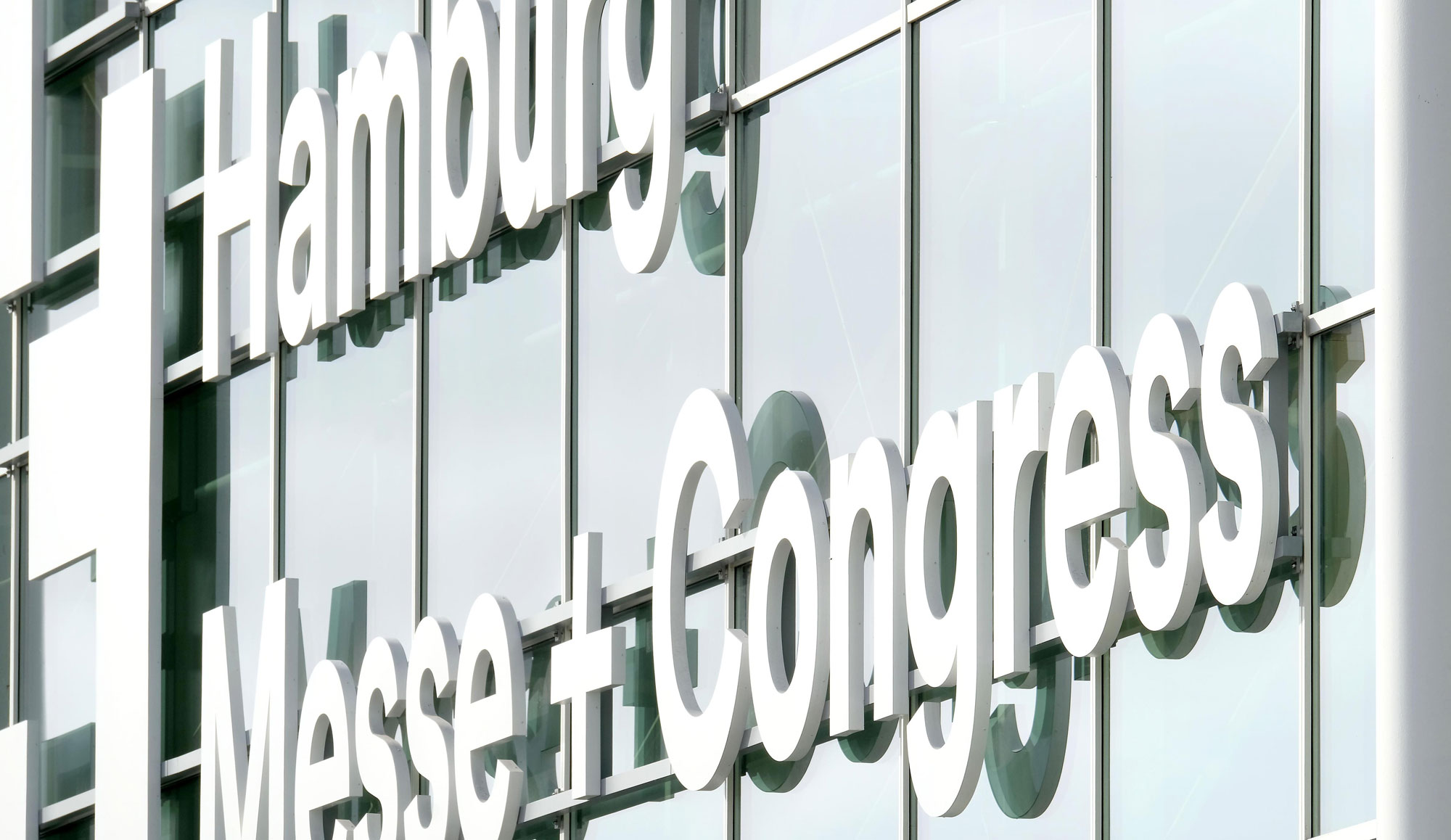 The varied portfolio of exhibitions held on the Hamburg Messe und Congress campus primarily focuses on industries clustered in the metropolis on the Elbe river: Top trade events that bring together key industrial decision-makers from around the world include SMM, the leading international maritime trade fair; WindEnergy Hamburg; or INTERNORGA, Europe's leading trade show for foodservice, hospitality, communal catering, bakeries and confectioners; and WindEnergy Hamburg, the world's leading expo for wind energy.
The Hamburg Messe und Congress exhibition complex not only offers ideal conditions for prominent guest events, including key exhibitions for industries such as aerospace, or major buyers' fairs for retailers, but also for attention-grabbing public trade fairs, international marketing events, TV galas, award ceremonies or political summits.
Hamburg Messe und Congress is well respected internationally for its expertise and dependability in organising and supporting successful trade fair appearances of German companies on all continents. Numerous award-winning German trade fair presentations at world expos have earned Hamburg Messe und Congress an excellent reputation as a general contractor.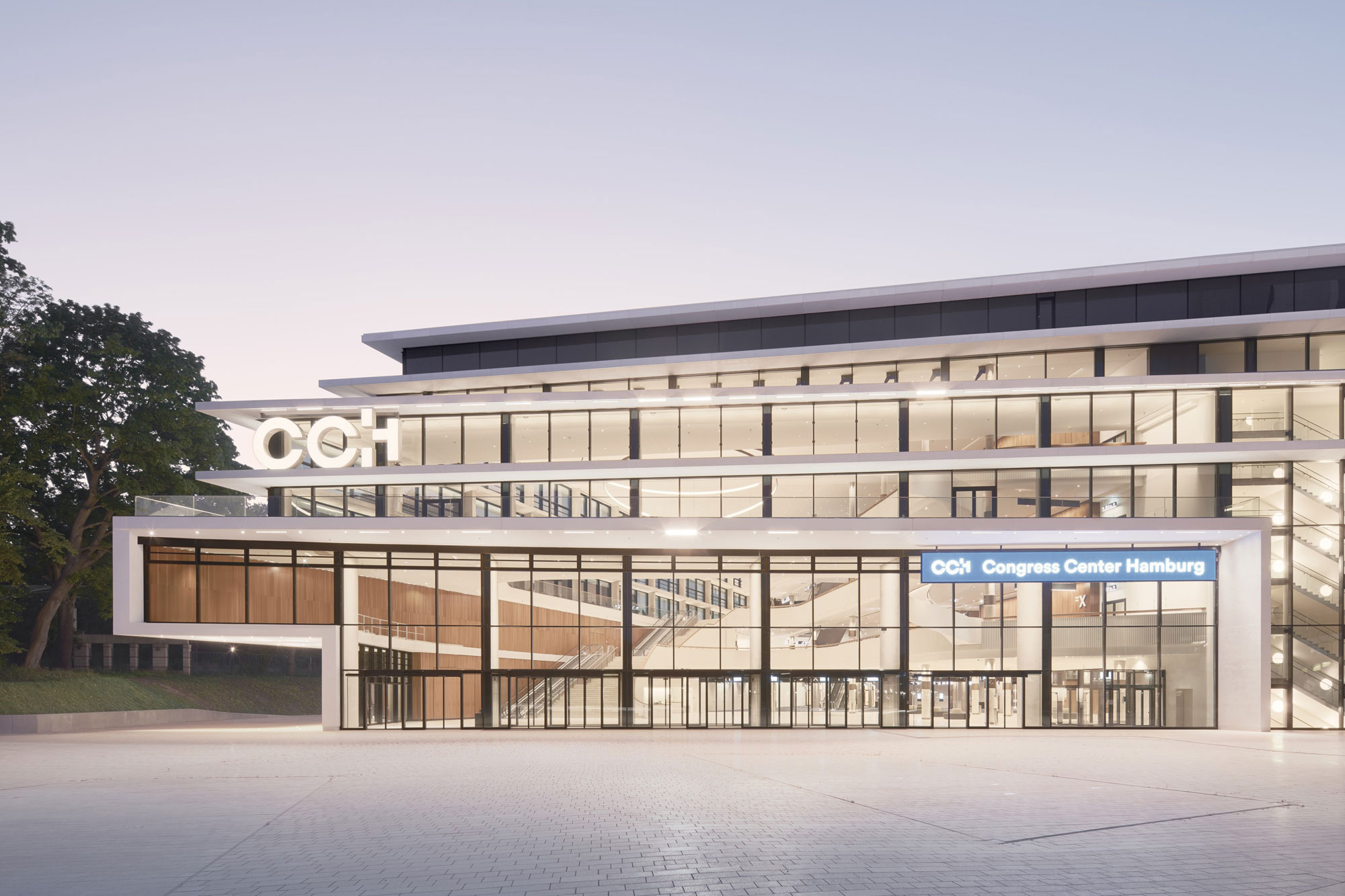 The new CCH – highly flexible and multifunctional
Just a few minutes' walk from the Hamburg Messe fair site is the CCH – Congress Center Hamburg, one of Europe's biggest congress centres. After undergoing comprehensive renovation and modernisation for the past four years, the complex now provides 12,000 square metres of exhibition space, 12,000 square metres of foyer space, 12,000 seats in total, and all the technology and flexibility today's congresses and events require.
In the heart of the city
The Hamburg Messe und Congress campus is situated in a privileged location in the Hamburg downtown area. The 'Planten un Blomen' park, the iconic Elbphilharmonie building, the new HafenCity district, the Speicherstadt UNESCO World Heritage Site, and a colourful mix of fascinating neighbourhoods are all located in the immediate vicinity of the exhibition complex and the CCH.
Easy to reach
With two train stations, the airport, three rapid-transit and underground stations, several bus lines as well as highway ramps nearby, the complex is well-connected.
Employees
Hamburg Messe und Congress GmbH employs a total of over 300 staff.
An ideal connection
"We create connections. New ones, different ones, again and again. The 'ideal connection' motto describes our mission," says Bernd Aufderheide, President and CEO, Hamburg Messe und Congress GmbH.
HMC facts and figures in brief

Hamburg Messe und Congress GmbH
1972foundation

300+employees
Hamburg Messe
40+trade fairs and exhibitions / year

87,000 sqmexhibition area

11exhibition halls

10,000 sqmopen air grounds

37conference rooms
CCH – Congress Center Hamburg
50halls

36,000 sqmtotal area

12,000 seats

12,000 sqmfoyer area

12,000 sqmexhibition space
Photo credits:
Header: © Hamburg Messe und Congress / Jürgen Nerger
Photos: © Hamburg Messe und Congress / Michael Zapf, © Hamburg Messe und Congress / Piet Niemann, © Hamburg Messe und Congress / Jürgen Nerger