Experience the exhibition halls like never before!
Would you like to know more about the Hamburg trade show company Hamburg Messe und Congress? Then join us for a look behind the scenes! Situated in the heart of the famous port city, our state-of-the-art fair complex offers a wide range of options. Its inner-city location is unique in Europe.

Come and join us for a tour to explore the site, from our conference area with its own press club, and the futuristic skywalk connecting the A and B sections, to the seemingly endless subterranean utility tunnels. Experience the exhibition complex from a perspective that is normally reserved to event organizers, exhibition suppliers and exhibitors only. And learn more about a successful company with an international footprint: Hamburg Messe und Congress GmbH.

We look forward to your visit.
Customised guided tours for groups
Please contact us to arrange a date and time.
Katrin von der Linde
Deputy Director Cor­po­rate Commu­nica­tions / Deputy Spokes­person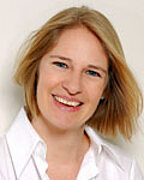 Photo credit:
Header: © Hamburg Messe und Congress / Jürgen Nerger